Instructions for Our DIY Holiday Decorations
Behold, here's how to make our favorite zero-waste DIY holiday decorations.
Cardboard Gingerbread House
Print out template. Cut out shapes and use them to trace each shape twice on your Imperfect box. Use a utility knife or scissors to cut out shapes.
Use white paint or a white paint pen to decorate each side and each roof panel of the house.
Let dry and use a hot glue gun to assemble pieces together to form a house.
Rustic Dried Orange and Bayleaf Door Hanging
Prep your bay leaves by carefully cutting slits in the middle of each leaf with a utility knife.
String a stack of 3-4 dried orange slices (store-bought or homemade*) onto a 12 inch long piece of twine, leaving a few inches of string on the bottom. String a stack of 9-10 bay leaves on top of the orange slices.
Repeat a few times and string a cinnamon stick on top.
Make a loop large enough to fit on a doorknob with the string on top of the cinnamon stick and hot glue the ends to the inside of the stick to secure. Finish your door hanging with a ribbon bow or a tassel (or both!) on each end of the hanging.
*If you plan on going full DIY on these holiday decorations and dry out your own orange slices, then be sure to slice your oranges thinly and line two baking sheets with greased parchment paper. Place slices on the pan three inches apart and sprinkle with sugar. Bake at 200°F, rotating baking sheets periodically, until slices are dry, 2-2.5 hours.
Cardboard Gingerbread Cookie Ornaments
Use cookie cutters as stencils and trace shapes onto your Imperfect box. Cut out shapes using a utility knife or scissors.
Use white paint or a white paint pen to decorate your "gingerbread cookies."
Let dry and glue a loop of string to the top of the ornaments.
Cinnamon Stick Snowflake Ornaments
Glue together three cinnamon sticks with hot glue to form a snowflake.
Wrap some twine a couple times along the tops and bottom of the middle cinnamon stick and secure with hot glue.
Form a loop with twine and hot glue to the top of the snowflake.
Silver Link Chain Garland
Using the silver insulated bag from your Imperfect order, cut out strips that are about 5 inches long and ½ inch wide.
Use a hot glue gun or a stapler to connect the ends of one strip to form a circle.
Stick another strip through that circle and glue or staple the ends together to form another circle.
Repeat for remaining strips until you reach the length of chain you desire.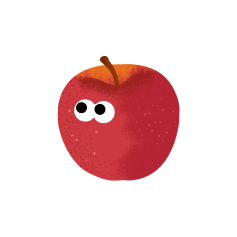 You might find these a-peel-ing